This post was written by Joe Young, a new staff member dedicated to Teen Services at our Poulsbo location. 
Hour of Code 2016
Whether you are a seasoned programmer or a total novice, December is the month to dive headfirst into the exciting world of coding with Hour of Code 2016! Hour of Code started as a one-hour introduction to the world of computer programming that was designed to demystify coding and encourage interest in the field of computer science. It has since gone on to become a worldwide phenomenon reaching tens of millions of students across nearly 200 countries and continues to grow every year.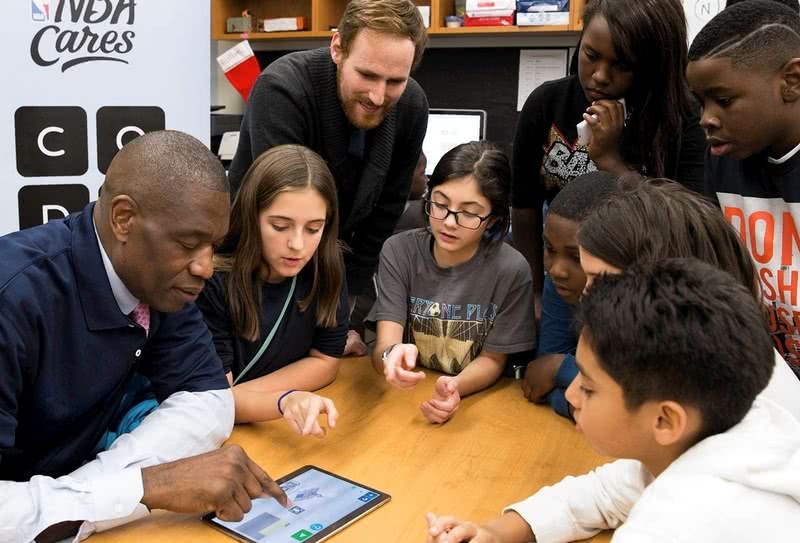 (Dikembe Mutombo with students. Digital Image. Join the largest learning event in history, December 5-11, 2016. Code.org, n.d. Web. 22 Nov 2016 <https://hourofcode.com/us>)
Launched in 2013 by the Code.org non-profit organization, Hour of Code occurs annually during Computer Science Education Week. Although Hour of Code has grown tremendously since its inception, there is still a pressing need for this event today. With technology spurring rapid change to every industry on the planet, knowledge of coding and computer science has become an integral part of the 21st century skills today's youth need to be successful in the future. For example, according to the U.S. Bureau of Labor Statistics employment opportunities in Science, Technology, Engineering and Math fields (STEM) will grow to more than 9 million by the year 2020 - a rate far exceeding the growth of non-STEM jobs during that same time. Furthermore, nearly three quarters of new STEM jobs will be in coding while only 8% of STEM graduates will be graduating with computer science degrees. Clearly, there is a huge opportunity for today's youth to develop skills that will be relevant to their future and open myriad employment pathways to explore; Hour of Code can be the perfect introduction to computer science for a young person that will lead to a lifelong love of learning and engagement with STEM.
There are many options available if you are interested in promoting Hour of Code and encouraging the youth in your community to develop a love of coding and computer science. If you are a teacher or community organizer, you could host an Hour of Code event in your classroom or facility. You could even challenge your entire school to participate in Hour of Code. If that's not a possibility, or if you don't feel comfortable leading an Hour of Code event, you could still volunteer to help with an event. If you don't have time to volunteer, you can still help by promoting Hour of Code on social media, within your community, or by asking a local business or elected official to support the event. If none of these options sounds like your cup of tea, you can always support Hour of Code by participating yourself during Computer Science Education Week (December 5-11). The Hour of Code website has prepared nearly 200 free lessons for the event, many of which do not require any additional software or previous coding experience.
With nearly 100,000 Hour of Code events scheduled for this year, finding a location to get involved should be a snap. Check the list below for resources from Kitsap Regional Library to get you started. Now get out there, roll up your sleeves, flex those mental muscles and start coding!