Summer 2016.  
For the first time in Kitsap Regional Library history, adults participating in Summer Learning by reading at least 10 hours between June and August would receive a book prize.  The book, the One Book One Community selection, was shrouded in secrecy until September when it would be officially announced.  Those who received their book prize would have a sneak peek.  
Amongst the library folk there was concern: would adults actually want the book?  
We shouldn't have worried.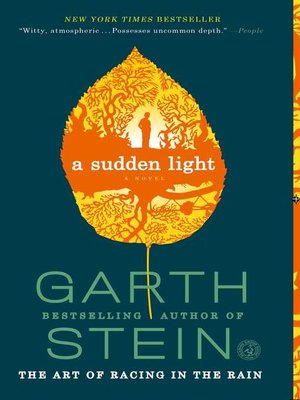 All 1000 book prizes were spoken for by the end of the summer, and people loved the connection to our One Book One Community events.  When Garth Stein's "A Sudden Light" was announced as the official pick in September, books flew off the shelves, but those who had already snagged a copy during Summer Learning stayed above the fray, safe with their prize, unbeholden to the reality of library due dates.  
The months flew by, and the books, ebooks, digital audio, large print, and audio books in the library's collection continued to check out.  By January 31st (the eve of the One Book One Community celebration month) library copies had been borrowed over 3, 380 times.  At Garth Stein's first visit at Bainbridge High School Commons, 122 people were asked how many of them had already read the book.  The sea of hands raised told the story.  This year's One Book One Community title was a hit!  If you haven't had a chance to read it yet, there are copies available at your local branch and or online through Overdrive.
This month has been a whirlwind of book discussions and events, wrapping up with a final author visit at the Port Orchard library on March 4th.  With a little more than a week left in the festivities, there're still opportunities to gather as a community around a single book. If you're interested in learning more about events celebrating "A Sudden Light"  visit our One Book One Community page.  For those wanting more about the book itself the website A Sudden Light is a great way to explore the themes and inspirations of the book.  
Our One Book One Community team is already hard at work selecting the 2018 title.  If you've got a great book in mind, one that will inspire people to engage with the wider world, encourage new perspectives, and help foster a sense of belonging to a single community, let us know!  Keep an eye out for more information about Summer Learning as we get closer to summer, we'll once again be presenting the chosen book as a prize for those who participate.