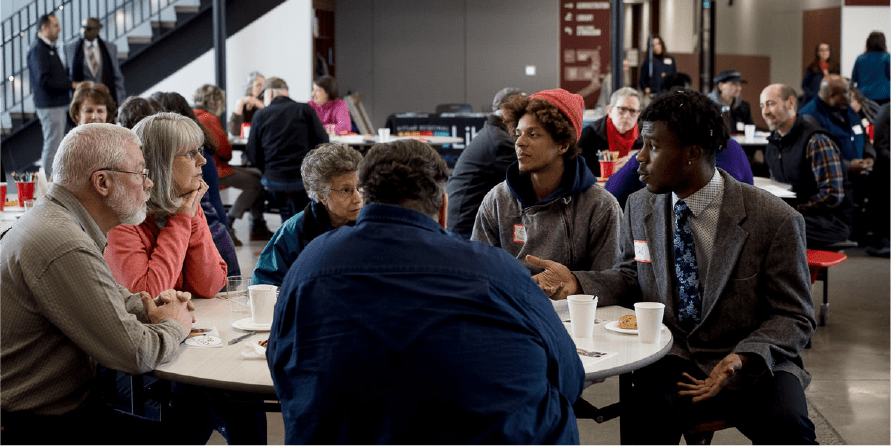 Connect Through the Power of Story
Start a community conversation with a Library Book Group Kit. Explore adult titles in fiction and nonfiction for your next book discussion.
Each kit contains 15 copies of the selected title and a discussion guide. Kits check out for six weeks at a time. Once you've made your reservation, you'll receive an email confirmation and be notified when your Book Group Kit is available for pickup. Please pick up your kit within seven days.
The library uses an online reservation system called KitKeeper for the reservation of book group kits. KitKeeper offers a convenient, easy-to-use system for book groups to browse the Library's book group kit collection, reserve kits and manage reservations online.
To use:
1. Select KitKeeper.
2. Choose one of the options for searching the collection:
List: Browse a list of titles before you select, then click "Go."
Reserve: Select a title from the dropdown menu, then click "Go."
Dates: Select a month from the dropdown menu and then click "Go."
3. After choosing your option, follow the screen prompts to reserve your kit.
4. Enter your contact information. You must provide an email or phone number. If you don't have one of these contact options, please click the unavailable link next to the phone or email fields.
5. You'll receive an email confirmation that the reservation has been placed.
6. When you receive the notification that your book group kit is available, you'll need to pick up your kit within seven days.
The Library has a wide variety of materials for all ages including books, DVDs, CDs and audiobooks. Additionally, the Library provides access to online databases and ebooks.

Cardholders can borrow up to 100 physical items at a time and enjoy unlimited access to digital magazines. Video games are limited to ten per cardholder, while digital audiobooks and ebooks are limited to 20 per cardholder. Book Group, STEM Learning and Early Learning Kits, passes and instruments are limited to one per cardholder.

You can place items on hold at any location, online or by phone. Cardholders can have a maximum of 50 physical items and up to 10 items from our digital collection on hold at one time. 

Most library items have a check out period period of three weeks (21 days). There are a few exceptions. TV and movie DVDs (under 240 minutes), video games and Check Out Washington: Discover Passes for one week at a time. Book Group Kits check out for six weeks at a time.

We take care of that for you automatically! If no one is waiting for your item and your account is in good standing, we will automatically renew your loan period up to three additional times. 

If you wish to renew items manually, several methods are available:  

Renew your materials online at catalog.KRL.org
Renew by phone. Call your local library and ask to renew your materials. Be sure to have your library card handy.   

Automatic renewals are not available for Book Club Kits, Interlibrary loan items or items in our digital collection. 

Books and other eligible items in the library collection renew automatically up to three times when no one is waiting for them, and your account is in good standing. You can also renew items at KRL.org or by contacting us directly.