Poulsbo Friends of the Library
Officially organized in March 1955, the Poulsbo Friends of the Library welcomes your participation in supporting our library.
The group meets the first Monday of every month, except for July and August, in the downstairs community room from 10-11:30 a.m. A summer outdoor potluck is held in August.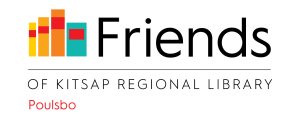 Book sales occur throughout the year. With the proceeds from our book sales, the Friends support library events such as Summer Learning for all ages, To The Library for third-graders and technology and facility upgrades to benefit the library as a community center and resource for education and engagement.
Jun 17th | 10:00am - 2:00pm

Sep 16th | 10:00am - 2:00pm

Nov 18th | 10:00am - 2:00pm
Closed
until 10:00am today
---
Monday 
10:00AM - 6:00PM
Tuesday 
10:00AM - 7:00PM
Wednesday 
10:00AM - 7:00PM
Thursday 
10:00AM - 6:00PM
Friday 
10:00AM - 5:00PM
Saturday 
10:00AM - 5:00PM
Sunday 
Closed
700 NE Lincoln Road
Poulsbo, WA 98370
In 1918 the local Civic Club founded Poulsbo's first public library with support from the town council. After contracting with Kitsap Regional Library, a levy passed in 1959 supported a new building on a town-owned lot. The City…