Closed
until 10:00am tomorrow
---
Monday 
10:00AM - 6:00PM
Tuesday 
10:00AM - 7:00PM
Wednesday 
10:00AM - 7:00PM
Thursday 
10:00AM - 6:00PM
Friday 
10:00AM - 5:00PM
Saturday 
10:00AM - 5:00PM
Sunday 
Closed
700 NE Lincoln Road
Poulsbo, WA 98370
In 1918 the local Civic Club founded Poulsbo's first public library with support from the town council. After contracting with Kitsap Regional Library, a levy passed in 1959 supported a new building on a town-owned lot. The City…
Holidays and Closures
Indigenous Peoples' Day

Monday, October 9, 2023

Closed All Day

Staff Training Day

Thursday, October 19, 2023

Closed All Day

Veterans Day

Friday, November 10, 2023

Closed All Day

Thanksgiving

Thursday, November 23, 2023

Closed All Day

Native American Heritage Day

Friday, November 24, 2023

Closed All Day

Christmas Eve

Sunday, December 24, 2023

Closed All Day

Christmas Day

Monday, December 25, 2023

Closed All Day

New Year's

Monday, January 1, 2024

Closed All Day
About Poulsbo
Bike Racks
Book Drops
Book Lockers
Copy, Fax & Scan
Curbside Holds Pickup
Free Wi-Fi & Public Computers
Printing up to 50 pages per day

Dedicated kids area
Dedicated teens area
Fireplace

Wheelchair accessible
Service dog friendly
Kitsap Regional Library provides free, inclusive access to accessible large and small spaces to support our community's needs. Rooms are available to the public on equal terms and must abide by the Library's Meeting Room Policy, opens a new window, the policy procedures, opens a new window and Standards for Patron Conduct,, opens a new window as well as guidelines specific to each location. While Kitsap Regional Library spaces are free, some rooms are owned by community partners who may charge fees for their use.
Use of a meeting room does not constitute an endorsement or sponsorship by Kitsap Regional Library of a program or points of view expressed within the program.
Large Community Room
Capacity: 80
Amenities: 15 tables, 80 chairs, sink, 85" TV, 120" projection screen, sound system with HDMI port only, microphone stand., AV kit with HDMI cable & microphone available upon request.
Small Community Room
Capacity: 8
Amenities: 1 table, 8 chairs, whiteboard and 65" TV with HDMI port only.
The Poulsbo Friends of the Library is a nonprofit organization that supports the library through regular book sales.
Poulsbo Friends of the Library Meetings, Sales & Events
Managers, Supervisors & Librarians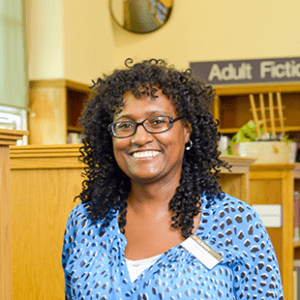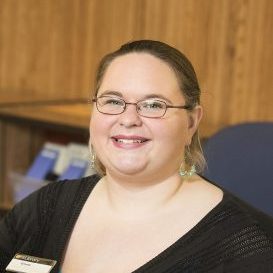 Emma Gold
Public Services Supervisor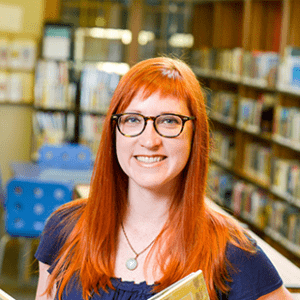 Meg Beade Stowe
Youth Services Librarian
Kacy Smith
Teen Services Librarian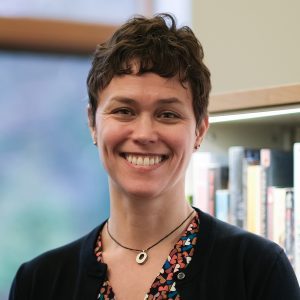 Carina Langstraat
Adult Services Librarian